Developing Critical Thinking Skills: The Impact of Teaching Strategies in a Writing Course for Communication Students
Keywords:
critical thinking, journalism, higher education, teaching strategies, writing, Communication, SDGs, SDG 4, SDG 10
Abstract
This research aimed at determining the incidence of the application of teaching strategies in the development of critical thinking skills in students of the subject Writing Styles majoring in communication at Universidad Don Bosco. Using a quasi-experimental design, the critical thinking skills of two groups of students were measured before and after the treatment applied to the experimental group. Such treatment consisted in the implementation of activities focused on developing critical thinking as a central aim of the selected writing course. The critical thinking skills considered in this study were: reasoning, problem-solving, and decision-making. The results revealed a positive impact of the application of the teaching strategies by significantly increasing their interest in expressing value judgments and solutions to social problems. Teachers should explicitly implement teaching activities to foster critical thinking in educational environments.
References
Andreu, M. & García, M. (2014). Evaluación del pensamiento crítico en el trabajo en grupo. Revista de Investigación Educativa, 32 (1), 203-222. http://dx.doi.org/10.6018/rie.32.1.157631
Cook, T & Campbell, D. (1979). Quasiexperimentation. Design and analysis issues for field testing settings. Rand Mcnally
Cordero, N., Fuentes, Ch. & Rodríguez, J. (2015). Desarrollo de Rúbricas. http://cea.uprrp.edu/wp-content/uploads/2015/09/Webinar-Desarrollo-de-R%C3%BAbricas.pdf
Fedorov, A. (2008). Foro virtual como una estrategia metodológica para el desarrollo del pensamiento crítico en la universidad. Tecnología en Marcha, 21, (3), 102-113. https://www.redalyc.org/comocitar.oa?id=179420843006
Franco, A. V. (2011). Escribir en la universidad: Reflexiones sobre el proceso de composición escrita de textos académicos. Lenguaje, 33. 97-125. http://praxis.univalle.edu.co/index.php/lenguaje/article/view/4818/6959
Gokhale, A. A. (1995). Collaborative learning enhances critical thinking. Journal of Technology Education, 7 (1), 22-30. http://citeseerx.ist.psu.edu/viewdoc/download?doi=10.1.1.77.1338&rep=rep1&type=pdf#page=23
Halpern, D. F. (1998). Teaching critical thinking for transfer across domains: Disposition, skills, structure training, and metacognitive monitoring. American Psychologist, 53(4), 449-455. http://projects.ict.usc.edu/itw/vtt/HalpernAmPsy98CritThink.pdf
Huertas, A., Vesga, G & Galindo, M. (2014). Validación del instrumento 'Inventario de habilidades metacognitivas (mai)'con estudiantes colombianos. Praxis & Saber, 5(10), 56-74. http://www.scielo.org.co/pdf/prasa/v5n10/v5n10a04.pdf
Paul, R., & Elder, L. (1997). Critical thinking: Implications for instruction of the stage theory. Journal of Developmental Education, 20 (3), 34-35. https://eric.ed.gov/?id=EJ541566
Reed, J. H. (1998). Effect of a model for critical thinking on student achievement in primary source document analysis and interpretation, argumentative reasoning, critical thinking dispositions, and history content in a community college history course (Published doctoral dissertation), Universidad de Florida del Sur. Tampa, Florida. https://www.criticalthinking.org/resources/JReed-Dissertation.pdf
Saiz, C. (2008). Evaluación en pensamiento crítico: Una propuesta para diferenciar formas de pensar. Universidad de Salamanca. https://cdigital.uv.mx/bitstream/handle/123456789/38320/2008222325-66.pdf?sequence=2
The Foundation for Critical Thinking. (2015) Remembering Richard Paul. https://www.criticalthinking.org/pages/richard-paul-memorial/1231
Willingham, D. T. (2008). Critical thinking: Why is it so hard to teach? Arts Education Policy Review, 109(4), 21-32. https://www.aft.org/sites/default/files/periodicals/Crit_Thinking.pdf
Zechmeister, J., Zechmeister, E. & Shaughnessy, J. (2001) Essentials of research methods in psychology. Mcgraw-hill.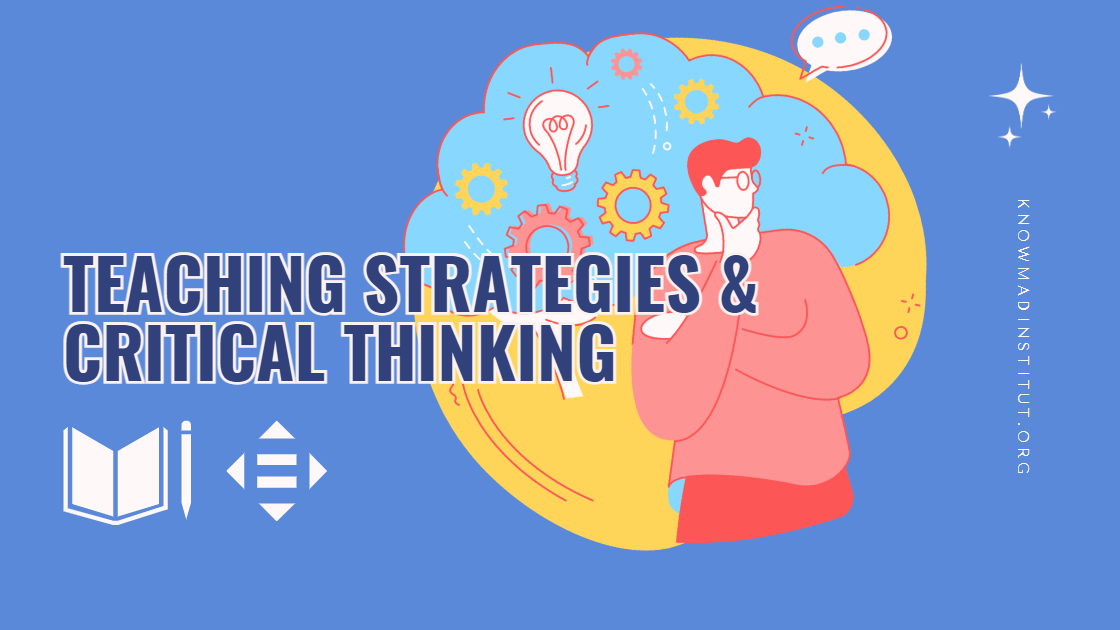 How to Cite
Pérez-Penup, L., Vides, K., & Umaña Fernández, J. R. (2023). Developing Critical Thinking Skills: The Impact of Teaching Strategies in a Writing Course for Communication Students. Journal of Multidisciplinary Studies in Human Rights and Science, 5(3). https://doi.org/10.5281/zenodo.7956350
License
Copyright (c) 2023 Lorena Pérez-Penup, Katia Vides, Juan Ramón
This work is licensed under a Creative Commons Attribution-NonCommercial 4.0 International License.
All authors who publish their work in this journal give their patrimonial rights in favor of the JMSHRS on a non-exclusive basis. This means that authors may enter into other independent and contractual agreements to disseminate their text published in this journal. Such as, for example, including it in an institutional, thematic or other repository, publishing it in a book, or other digital or physical media, as long as they explicitly indicate that the work was first published in this journal.

The responsibility for the content of each published work corresponds exclusively to the authors themselves, excluding the editors from any legal responsibility.
The contents of the journal will be disseminated under a Creative Commons Attribution-NonCommercial 4.0 International (CC BY-NC 4.0). All issues are open access (OA) from the moment of publication.